On Friday, October 22, Dr. Quintin Bullock, president of the Community College of Allegheny County and dean of the Men of Color Student Leadership Institute, along with Dr. Kimberly Beatty, chancellor of Metropolitan Community College and convener of the Presidents' Roundtable, extended greetings to returning and first-time students and advisors attending the 2021 virtual Men of Color Student Leadership Institute. The theme was "Now More Than Ever—Advancing MOCSLI Excellence."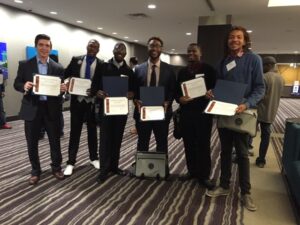 It's not a surprise that the pandemic presented the MOCSLI committee with the challenge of organizing an all-virtual 2021 event, just as it had in 2020. Nonetheless, the MOCSLI committee planned and implemented a dynamic institute that offered a unique blend of sessions for the engaged participants. Students were equipped with the tools needed to navigate their college culture and given the opportunity to examine success strategies for maximizing graduation and completion. Additionally, students actively participated in an Art of Networking session that covered the seven fundamental principles for achieving personal and professional success.
The advisors focused on generations in the workplace, leading through uncertainty, and defending and sustaining men of color programs. In addition, they discussed the tools and resources that are critical to building diverse workforces capable of remaining competitive on the global stage.
Details regarding the 2022 MOCSLI will be announced in early spring.