Finding Balance in Retirement
Toward A Definition
Recently, I had the opportunity to have a great conversation with a group of elders on the topic of "Creating a Balanced Life."  This discussion lead to a variety of definitions of balance, or what some would call work-life balance.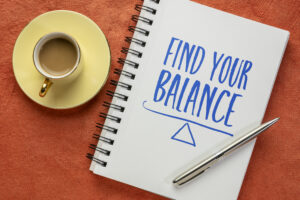 Some noted that balance is creating a life where there is time for the things that you have to do, mixed in with time to do those things that one enjoys and is passionate about, along with finding time for strong relationships with family, friends, and colleagues.  Some, in the discussion said that balance includes attention to your body, mind, and soul; while others noted that it is having a balance between your work and personal life.  One individual noted that balance means that every day you have time for responsibilities, work, pleasure, yourself, and strong healthy relationships.  Another person shared that previously, we stressed that balance is about time management; however, today, the thinking is that balance is really about self-management.
Essential Components
With these different ways to define balance, we determine that to create a balanced life, often different in each season of life,   it is essential to have clarity on one's purpose.  It also requires time for reflection, review, and development of an action plan.   Further, balance demands establishment of priorities to guide the use of time.
Personal Reflections
In reflecting on my life, especially in light of retirement, and a "new norm," created primarily because of COVID, I have come to develop a group of actions that have assisted me in achieving balance.  While I do not always get to the ideal goal of balance every day, I have found the following helpful:
Connect to a Purpose: Understanding the purpose for my life, while connecting to that purpose in work, service to others, and in establishing priorities is important.
Pay Attention to Health: Developing a pro-active plan that includes a healthy exercise routine, securing an appropriate amount of sleep nightly, and eating healthy are important.  I have both a functional/holistic medical doctor and dentist, nutritionist, and an internal medicine doctor who have assisted in establishing a plan that is appropriate for my body.
Enjoy Laughter, Have Fun, and Pursue Passions:   Taking time to enjoy the world around me and not taking myself too seriously have become important.  I love dancing and have found a way to include it in my weekly routine.
Assist Others:  I ask myself weekly, who have I helped this week?  I have learned to ask the master of my life, weekly, to guide my steps to those who I may help.   I have found that helping others adds meaning to my life.
Take Time Away From the Technology:  Finding time to limit emails, text messages, etc., yet use the technology to enjoy music, special speeches, and humorous presentations have been rewarding.
Protect Family and Friend Time: I have on my weekly schedule, time for the key members of my family, and friends.
Give Away Things That Add No Value: In this time of growing more mature, I have learned to give away something.  For example, contracting with brilliant young technology wise individuals to assist with tough technology responsibilities are essential.
Learn more about my thoughts on "Balance" in my book "Leadership Wisdom For All Generations" at [email protected] and amazon.com.